Lotus49 wrote:
AravJ wrote:
Lotus49 wrote:
AravJ wrote:
Lotus49 wrote:
I just thought they were talking about the version that ended the season last year to be honest when they talked about not hitting the previous version. I must have just assumed that they couldn't have failed by that much lol, more specifically the backwards step with the ERS is what's surprising me.
P.S. Since you're the guy that brought Stoff (And Max) to my attention a few years ago in the feeder series thread I think you should be the one to start his official thread off if you're up for it.
And that would be fake news/ propaganda created by the chasis camp.
Its clear for everybody to see by the video posted that honda is down by 11 km/hr by the end of the straight, and acceleration curve not far off merc.
If you choose to beleive what some anonamous insider says then you are also saying Merc engine went backwards not only from 2015 but also 2016.
Maybe but not for the reasons you probably think. If it's lies or exaggeration it will be to shame Honda into pulling their finger out. My slight problem with just crying BS is that it's a Dieter Renken piece. He doesn't tend to write BS or get played like that but I'm not subscribing to read it so there's not much else I can go on to get a feel for the piece.
I'm not sure what people think 100bhp down looks like on a speed trace or end of straight deficit. What are you expecting to see?. And remember they don't have equal d/f and drag, it's not the same car you are looking at. The McLaren is designed to limit that damage.
Not sure what you mean with the last bit, why would it mean Mercedes have gone backwards?.
What i mean by the last bit.
Honda was 20-30 km/hr down on merc in 2015.
If Honda still have the same power as 2015 and now 11 km/hr down on merc that surely means merc went backwards. Which is a ridiculous statement. Same would apply it you test the theory on 2016.
I would be interested to know how much the current deficit means on the straights. Even from the video they just say its significant without giving numbers.
I tried doing my own crude analysis from sochi qualy. I measured from exit of turn 10 at the end of painted curbs to second sector timing turn 12. AlonsoQ1 loses 0.3-0.4 sec on Kimi Q2. And 0.1 -0.2 sec on Vestapen. As i say its crude and does not take into account corner exit speed. Just wish that sky would do some analysis for us with all their recouses. Or maybe some of you have better ways of doing it. Ideally i would like to measure from exit of start finish straight but there is no footage af the mclaren from that point.
I've got you now yeah.
Well the only thing I can say is that it's not always 11kph in Q, and it can go up to around 30kph in races, it's not really a set gap. Here's the Sochi race stats...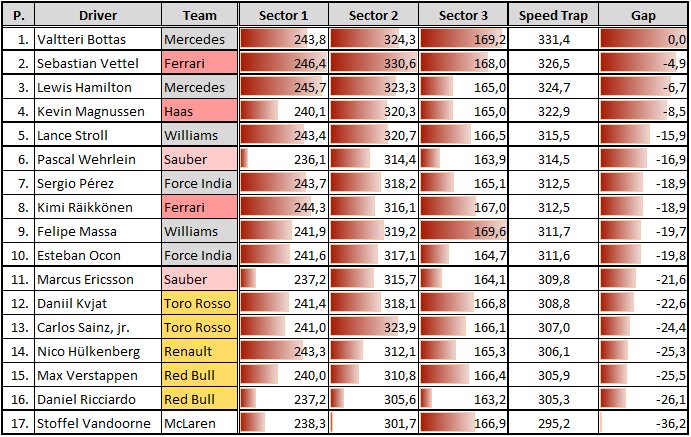 Dunno if this is what you're looking for but I found a qualy comparison for Sochi with Seb(Q3) vs Alo(Q1).
S1- 1.115
S2- 1.346
S3- 0.658
Thank you for the video.
Since there was no timing on the screen, i recorded it on my desktop and used time stamps on a video editor to do some analysis.
I basically picked track reference points from both cars and calculated the difference on how both cars performed on straights, corner entry and corner exit.
From the start of the video exit of turn 18 to 150 meter before turn 2, mclaren is 0.47 seconds down on ferrari. (which is better than i thought given the long staight)
From 150m to turn 2 apex the mclaren loses 0.24 sec which is shocking that it loses half the time under braking to the apex that the power unit loses on the whole straight
From turn 2 to entry of turn 4 mclaren loses 0.35 seconds, i guess this is combination of chasis and power as i doubt its flat out.
Breaking into turn 4 apex mclaren loses 0.15 seconds and 0.03 seconds on exit.
I could not get good data from turn 4 exit to turn 5 because the video was frozen to record the sector time (i could have got it right but did not have the time)
Turn 5 apex to exit mclaren loses 0.2 sec.
Loses 0.11 sec from exit of turn 5 to entry point of turn 7
Loses 0.1 sec from entry to apex of turn 7 and another 0.18 sec to exit point of turn seven.
The rest of the sector 2 is pretty much the same loses 0.1 to 0.15 seconds on straights and 0.1 seconds on entry to apex and another 0.1 sec on exit
In sector 3 turn 13 the time from 100m to apex is identical with vettel and alonso, take it for 150 meters and then Alonso loses out 0.1sec.
In sector 3 the power unit plays a very small role losing about 0.07 to 0.04 seconds on the straight bits.
Mclaren continues to lose about 0.15 sec from entry to apex and 0.1 on exit. Only Turn 17 exit is same as Ferrari.
The cornering performance is definately contribituting about half of the lap defict to ferrari.
Mclaren has some serious issues on entry to the apex
Exit of apex is as poor but in some cases better than their entry performance
Alonso seems to be slowing down the car sooner than Vettel but not getting getting any benefit on exit as he is still more caustious in fact its mostly worse than vettel
Even thought it looks like Alonso is butchering the corners he is actually more cautious but the chasis is making it look bad.
I think Alonso is a very good driver, if he had to be more smoother he would probably end up with a van Doorne type lap, but bad on him for not asking his engineers to do a very simple analysis.
Then he would realise as i have the chasis is half the problem.
It a very interesting excersise that any of you can do for your selves rather than beleiving the BS mclaren and Alonso are throwing around.
I do hope we get more of these videos
I must say going frame by frame really shows how hooked up that Ferrari chasis is by comparsion.