Obviously they are attempting to cover up secrets. And just as obvious, you can't keep that secret concealed forever. But if a team can keep some secret from being revealed for even one race, it may offer and advantage that could be worth as much as 10 points more. And at the end of a season, 10 points can decide a championship.
But even with modern high speed and high resolution video capture devices, sometimes you have to focus on a specific angle to discern something different. And if you cut off the angles and limit the exposure time, you hope that the secret has not been revealed ..yet.
There is an active game of cat and mouse going on, secrets concealed, sleuths looking for clues. For instance, no one was aware of the Mercedes 2012 DDRS system until a sharp observer noticed that a Mercedes mechanic picked up a from wing with a grip pattern slightly different, to make sure he didn't touch certain delicate holes on the bottom of the wing. Just from the way that mechanic held the wing, he deduced that it had holes on the underside, and figured out most of the elements of the secret. The word was out, and other sleuths took up the hunt. As other photos were carefully scrutinized, the DDRS was slowly stripped of it's secrecy, until everything was figured out.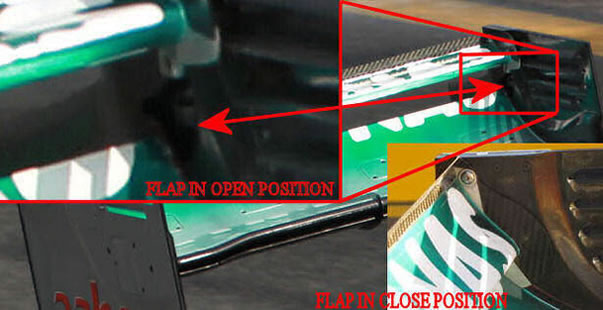 As another example, in 1997 sharp observers noticed that the McLaren brakes were still glowing after exiting corners. At the Grand Prix of Luxembourg Hakkinen's car ground to a stop during the race, and F1 Racing photographer Darren Heath stuck his camera inside the cockpit and snapped this famous picture of the extra pedal.
It all depends on being at the right place, and having the right angle to capture something interesting.