Zoue wrote:
pokerman wrote:
Zoue wrote:
pokerman wrote:
mas wrote:
No. Look at the photo, Kimi's front tyres are pointing to the left towards the apex not to the right towards Max. Whereas Max's direction is clearly on a collision course with Kimi as his front tyres are already within Kimi's rear tyres before the impact pointing towards Kimi's car body. Max just panicked because Vettel closed the space in front of him and he probably misjudged the distance to Kimi's car. Kimi was at a gentle angle to make the apex, if he moved any further over he would have had to take the apex at close to a right angle so he is relatively blameless here. It's either racing incident, Vettel or Verstappen, take your choice.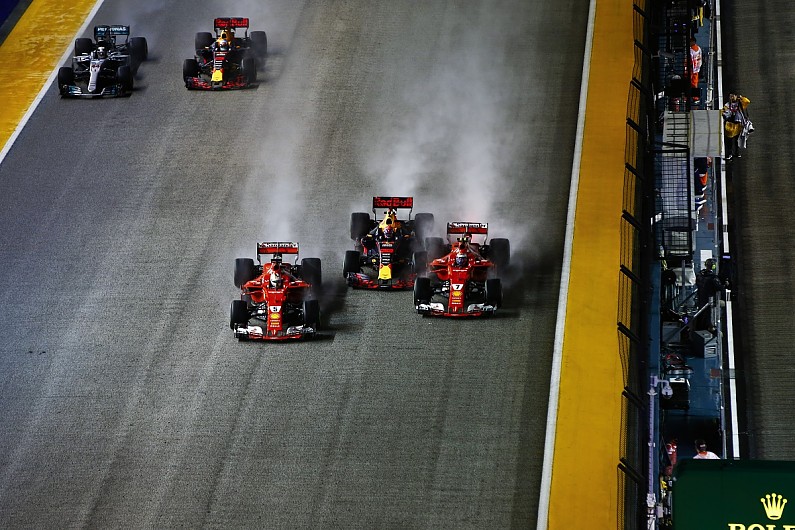 Source -
http://www.autosport.com
Yep no way is Kimi turning right and this is a split second before the contact, I'm wondering if some people are looking at Verstappen's onboard when they say this when it may appear that Kimi turns right towards Verstappen when it is in fact Verstappen that is turning left?
He did turn right. It was played to death at the time and 100% conclusive. This was from TV feed from various angles, not just Verstappen's onboard
The clip shows Kimi traveling in a straight line to the white line a split second before the contact, if Kimi is turning right then Verstappen is turning even more to the left, as for Vettel he's heading straight for the pit wall.
On the video right before the clash it shows Kimi turning into Max.
Mas, Pokerman, look at the "all angles" video again, then think the whole sequence through. Kimi was gently turning to the right, before it became clear to him that Max was continuing to come left, instead of backing out. There's a little problem with the video, in that the cars are already rolling when the Max and Kimi onboards start. Both were pointing right, but Max going there makes Kimi switch left into the open space created. Precisely why Max decides to stop his move to the right so early, still isn't clear to me, unless he did realise that Kimi was making a monster start, and was making Max choose who to block first, or to block most. Instead of taking the initiative and putting pressure on Sebastian, Max had completely lost the initiative to the two Ferrari drivers.
Max then making two moves to the left make me doubt he saw Kimi making the perfect start however, and that would explain his getting in the way of Kimi. He only starts turning right again when Kimi shoots alongside. Not before, which made me doubt already at the time what Max said about seeing the situation develop. He didn't (edit: or at least not in time), because if he did, he would have backed out of the trap he had set up for himself.
I must say I didn't think I would spend time looking at this in detail again, but I'm glad I did. It confirmed what I saw the evening itself: that Max was the driver who bears most responsibility for the incident. The reason I can agree with the stewards' verdict, is that things happened so fast, all drivers got caught out by it. But that doesn't change the analysis.