Round 10: Silverstone, England
The start of the race saw pole man Bottas lead away from fellow front row starter Hamilton, then came Leclerc, Verstappen, Vettel and Gasly. The opening laps Hamilton was putting Bottas under continuous pressure momentarily getting by Bottas before Bottas managed to regain the lead, Hamilton continued to put Bottas under pressure throughout the first stint often staying within DRS range.
The battle for third place between Leclerc and Verstappen was even more intense with Leclerc constantly having to defend his position with Leclerc's soft tyres probably starting to lose grip compared to Verstappen's medium tyres.
Another soft tyre starter was Gasly who was the first to pit on lap 12 going onto hard tyres, a lap later in came both Leclerc and Verstappen both changing to medium tyres, Leclerc perhaps anticipating that Verstappen was going to pit?
As the two drivers were released from their pit boxes Verstappen was released slightly in front of Leclerc as the two cars went side by side down the pit lane this enabling Verstappen to take position from Leclerc, however as the two cars rejoined the track Verstappen ran wide on cold tyres enabling Leclerc to regain his position.
On lap 16 Bottas pitted for another set of medium tyres putting him onto a 2 stop strategy, then on lap 20 Giovinazzi spun into a gravel trap and got stuck, this required a recovery vehicle to remove the car so a safety car was called, Hamilton and Vettel immediately pitted for hard tyres as did Verstappen who had only used one type of tyre.
A lap later Leclerc also stopped for hard tyres but this was a lap to late as he had been slowed by the safety car procedure and this dropped him to 6th place behind Hamilton, Bottas, Vettel, Gasly and Verstappen, Leclerc was not to happy by his poor strategy.
Hamilton was now in front because also Bottas had been slowed by the safety car procedure and unlike Hamilton, Bottas would need to stop again because he had used only one type of tyres.
At the safety car restart Verstappen was soon past his teammate Gasly into 4th place and soon closed down Vettel in third place whilst Gasly was coming under pressure from Leclerc, Leclerc got past Gasly and a few laps later on lap 37 Verstappen passed Vettel for third place, however Vettel tried to retake the position immediately but made a mistake under braking and crashed into the back of Vertsappen's car as he defended the corner. Both cars went off the track allowing Leclerc and Gasly by, Vettel rejoined the track first but let Verstappen by as he had damaged his front wing which caused him to change the wing along with a set of medium tyres.
Verstappen continued on in 5th place but his car was now quite badly damaged and he didn't have the speed to catch the cars in front, then on lap 43 it was announced that Vettel had received a 10 seocnd penalty for the incident.
On lap 44, 8 laps from the end of the race, Mercedes radioed Hamilton to change his tyres as a safety precaution which he could do without losing his lead as Bottas, who was running 3 seconds behind Hamilton, still needed to stop and Leclerc was too far behind, Hamilton declined.
A lap later Bottas made his final stop onto soft tyres and immediately set the fastest lap of the race, Mercedes once again advised Hamilton to change his tyres but again he declined, on the final lap of the race Hamilton set the fastest lap of the race and got the bonus point, I guess not too much wrong with his tyres?
So Hamilton won the race from Bottas, Leclerc, Gasly and Verstappen with Sainz the best of the rest in 6th place.
In third place with 166 points and receiving the

"Feisty Leclerc Trophy"
Laz_T800

In second place with 167 points and receiving the

"Unlucky Bottas Trophy"
Mod Titanium, coulthards chin
In first place with 169 points and receiving the

"Homecoming Hamilton Trophy"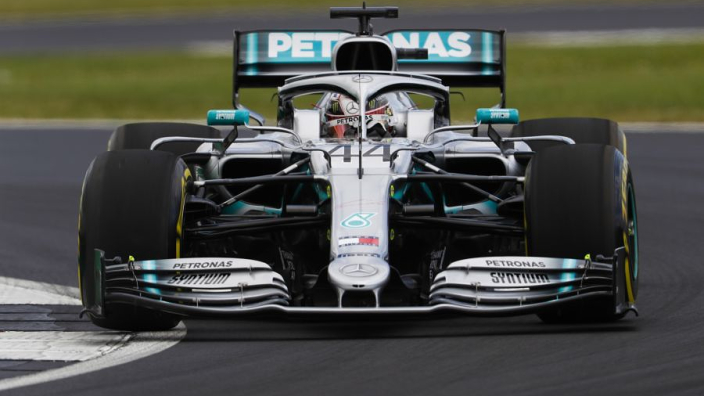 F1_Ernie
PF1 PICK 10 CHAMPIONSHIP 2019 - ROUND 10 - SILVERSTONE
1.
F1_Ernie
169
2. Mod_Titanium 167
2. coulthards chin 167
3. Laz_T800 166
5. JN23 163
5. Lotus49 163
7. toda11blue 162
8. Mayhem 161
8. McPrancingBull 161
10. Icemanjee1 158
10. Herb 158
12. K.F. 157
13. cm97 156
13. Exediron 156
13. Remmirath 156
13. paul85 156
17. OnAGivenDay 153
18. Dom1511 150
19. Bentrovato 149
20.
donr
148
21. purchville 146
21. Jenson's Understeer 146
21. UnlikeUday 146
24. Pisco Sour 145
25. SteveW 141
26. P-F1 Mod 138
27. Covalent 161 (FP3 Penalty -25) 136
28. Flash2k11 132
29. robins13 145 (FP2 Penalty -18) 127
30. Saio7 126
31. pokerman 122
32. jzusy 134 (FP1 Penalty -15) 119
33. RustyRockets44 105