Spain update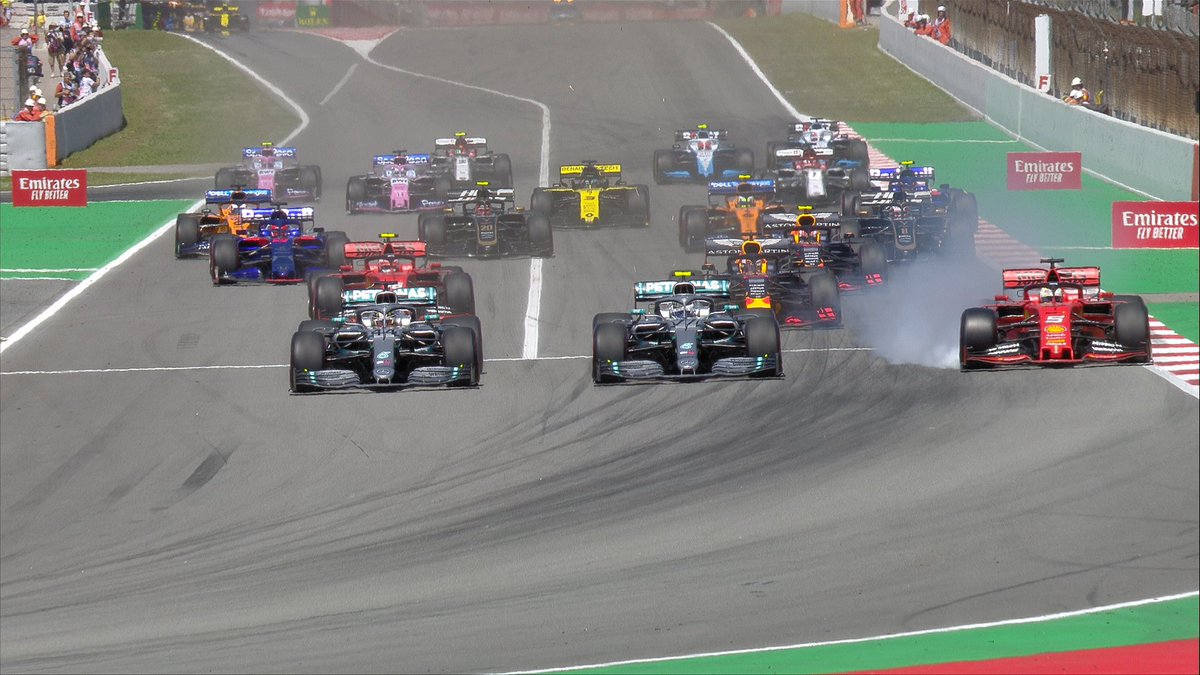 Source https://pbs.twimg.com/media/D6XoT7uW0AAsS-F.jpg
Circuit de Catalunya home of F1 winter testing. A track that shows us what teams are leading the development race and who needs to keep working on those upgrade packages.
In practice Valterri bottas set the tone early and kept the momentum rolling his way he had a comfy margin over the boys in red. The mercs looked sharp to say the least and Ferrari were left scratching their heads at the time sheets.
In qualifying it was yet another merc 1-2 with bottas leading the way as Hamilton couldn't get all the pieces together for this one as bottas clinched yet another pole with a possibly the best lap of his career.
At lights out it was a quick get away by Lewis Hamilton that saw him leading into turn one as bottas got squeezed which narrowly saw him lose the rear as he defended against vettel. Unfortunately for us that was about all the excitement as everyone held stations after that. Some good fights in the mid field with haas making some progress, home town hero sainz beating Riccardo into the points and notable mention to kvyat for a strong performance.
In our race however the scores were pretty good with many team well in the points this round but one team had much better upgrades then the rest of us netting them 8/10 correct predictions and clinching the first major bonus of the season.
Congratulations to bancieri for winning the Spanish GP
🥇Bancieri 159 🏆
🥈Jn23 75
🥉Icemanjee1 & exediron 69
——————————-
Best of the rest
Mayhem 64
Unlikeuday 34
Todablue11 18
_________________
PF1 pick 10
2016
: 7th (1 win, 4 podiums),
2017:
17th (3 podiums)
Awards
: Sergio perez trophy & Podium specialist
PF1 pick 3
2015
: constructors 2nd, singles 5th
Autosport Gp
2016/17
- 5th
F1 Oracle
2017:
2nd (6 wins),
2016:
5th (2wins)